ARCHIVE 01
January 1, 2010
Greeting everyone! Happy New Year 2010!
'Tis the year of the White Tiger, so I wish you all to have more white stripes than the black ones, and that the black stripes would be as small as the ones on the barcode. =)
HAPPY NEW YEAR !!!

July 1, 2009
Today Canada celebrates its 142nd anniversary. Exactly 142 years ago, due to the enactment of the British North America Act, Canada was united as a single country. This is a great day for every Canadian whether in Canada or abroad.
HAPPY CANADA DAY !
---
October 26, 2008
Well this is just a "little" technical update of my site. I have added a search box on the right pane, so now you can search my site and see the results right away. Give it a try !
---
October 13, 2008
Today is a bright day in our family - my grandfather is celebrating his 90th birthday. Yep, that's right ninety years !!!
For those that don't know, my grandfather is a well-known Transcarpathian painter, creative person, WWII veteran and simply respected throughout the province and abroad.
Those willing can familiarise themselves with the wide selection of my grandfather's paintings on his site: www.fedor-art.com
---
October 12, 2008
Long time without updates so I am going to remedy that. Summer went by really fast. Just work, work and more work.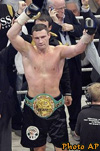 I would like to begin this update with a piece of information that would make every Ukrainian proud, no matter where in the world (s)he is. I mean the recent victory of Vitaliy Klytchko over the Nigerian boxer Samuel Peter. Vitaliy has attained a confident victory in 8 rounds of boxing, thus becoming a heavyweight champion by the WBC version.
Thus, Vitaliy together with his brother Volodymyr now posess three out of the four prestigious heavyweight titles. Recall that Volodymyr Klytchko is a heavyweight champion by the WBO and IBF versions.
KEEP IT COMING GUYS !!!
One more title remains unclaimed by the Klytchko brothers - it is the WBA heavyweight champion's title that now belongs to Ruslan Chagayev and Nikolay Valuyev (while the champion Chagayev is on vacation). That would be an interesting fight, wouldn't it ?
---
July 7, 2008
Well the summer is here at last !!! That means a lot of sun, water and rest (hopefully =) I have a lot of plans for the summer and hope to fulfill them ...
Anyhow, I would like to make a small update. Another article of mine was published at Forum Geometricorum. It continues the same topic of Haruki's Lemma and is called "Haruki's Lemma for Conics". You can read about on the Forum Geometricorum page.
---
April 7, 2008
Today's update is short yet straight to the point.
After a long period of waiting I have finally published my article over at Forum Geometricorum !!! You can find the link to the article here: "Haruki's Lemma and a Related Locus Problem".
It was a struggle, but it was damn worth it =)
If you would like to read more about Haruki's Lemma then please go over to my Math page or directly to Haruki's Lemma page.
---
SENSATION !!! An Alien Communication Received !!!

YES ! It is truly astounding news. Today a team of amateur astronomers has received a cryptic message from the far reaches of our universe. The signal came from a vicinity of a red dwarf star, Gliese 581, in the constellation Libra - some 20.5 light years away. It is remarkable that scientist have lately discovered a possible Earth-like planet around this red dwarf. Was the signal sent from this planet ?
The message itself, a collection of ones and zeroes, has proved difficult to understand. The team of astronomers responsible for the signal's discovery was kind enough to provide us with this collection of 1's and 0's. Here it is:

0000000000000110001100001100011000000010000000000100000000011100000100000001001100000110
001100011000001111100000001110000
All attempts to decipher this signal have failed so far. Can you lend your hand to the scientific community?
Cryptography expert John Reed from Wagenburg University had this to say: "Yeah, the difficulty here lies in the fact that the message itself is too short to try any known decryption methods. Therefore, we are looking for some true inspirational idea in order to be able to decipher it. The possible scientific meaning cannot be understated..."
If you know the key necessary to break this signal open, let us know immediately and become famous
---
March 29, 2008
Well, I must say that it has been a while since the last update. Hopefully no one is going to stone me for that =) Lots of events went by: Christmas, the New Year, the St. Valentine Day etc. Hey I even had my 30th birthday. Yep, the time flies by real fast.
I have put together a small collection of pictures from the year(s) before. You can check it out here: Photo Collection - 2007.
I have updated my math section with a scanned version of my early article (in Ukrainian). You can find it in the Math section of the web site.
---
October 31, 2007 - The Halloween
And so it is - the Day of All Saints has come at last. Time to put away whatever it is that you are doing and begin scaring away the evil spirits lest they haunt you to the end of your days. Muahahahaha... =)
Well, I hope everyone had good time Trick or Treat'ing. Got some good Halloween pictures ? If so, send them my way - I'll definitely post a few.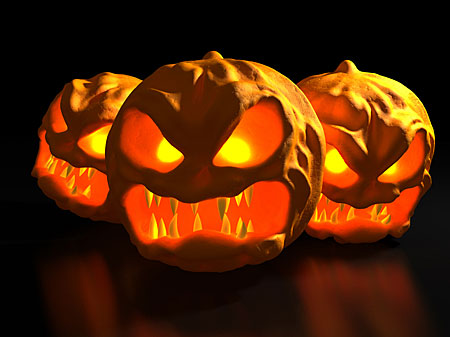 ---
August 11, 2007
Hey everyone ! A quick little update. I'm going on a vacation to the Black Sea, he he. Odesa, here I come... =)
Well, it's going to be fun for sure. You'll read my report once I return. So cheers, gotta run and pack my bags my train is in a few hours.
---
August 1, 2007
Well, after a long break and a working trip to my grandma, I've decided to finish up the pages that were left unfinished since my trip to Kyjiv. You can see the information here:
Kyjiv 2007 - Part 1
Kyjiv 2007 - Part 2
Other than that, in about ten days I'll be going on a vacation to Odesa. Ahh... the hot sun and the beaches. Can't wait...
You'll be able to read about this vacation once I return, I hope to squeeze in an update before another term in the institute starts =)
---
July 17, 2007
Ahh, the beauty of vacation and free time - time to do anything you wish. Well, not really. On one hand there are so many plans, so many things to do in this short period of time and it seems to negatively influence the support of my websites. It seems that the routine of work has aided with keeping the site updated =)
So many things happened since the last time I updated the site. The Canada Day, on the 1st of July, I hope my Canadian friends had fun celebrating it. Then on the seventh day of the seventh month of the seventh year, the Ukrainian boxer Volodymyr Klytchko TKOd in 6 rounds Lamon Brewster, thus defending his two World Champion titles.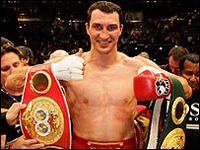 My vacation began with a really intense week-long business trip to Kyjiv, however, I did manage to squeeze some time to wander around the city and take some pictures of some of the sights. You will be able to read about that trip once I return from my current trip. Hehe, such is the nature of summer. Until then, I wish everyone to have a really good time vacationing.
---
June 18, 2007
Well, been a couple of really busy weeks, hence the lack of updates. Lots of stuff happened during this time: Sens lost the Stanley Cup to the Ducks, one game to four. Oh well, Sens have a team worthy of the Cup so they'll win it, the question is "how soon?".
A ten-day ago was my sister's birthday and she decided to celebrate it by going on a picnic. So we went out to a small but quite famous picnic area not far from the city, the Nevic'kyj castle. Yep, that's right a medieval castle located 12 km from the city. Well our picnic area wasn't near the castle as it is on a hill 125 meters high, we were about a kilometer away, near the river Uzh. Picnic was great, lots of meat barbequed by yours truly, beer and water soccer - was a lot of fun. My sister liked it and so did her friends so I'd say that the B-Day party was a success.
Really a lot of fun was the water soccer. What they do is fill a special soccer field with about 10 centimeters of water, give you a ball to play with and off you go. It is the best thing to do on a hot day. Don't be fooled by the simplicity of the game, adding those 10 centimeters of water changes the way the game is played. If you don't believe me, fill your bathtub with a bit of water and try simply walking in that water, slippery isn't it ? =) Now imagine running, trying to kick the soccer ball (and it's quite difficult to kick it while your foot is in the water) while being swarmed by a bunch of people who are all trying not to fall. He he he, as I've said - lots of fun !!!
I am counting down the days to my vacation, 11 days left. Can't really wait - have lots of plans for this summer and want to make sure that they bear fruit.
Eleven bottles of beer on the wall, eleven bottles of beer.
Take one down and pass it around, ten bottles of beer on the wall...
---
June 2, 2007
Today I've updated the graphic on the site, most notably the logo, changed some of the little things around the site etc. Do you like the new logo?
Also by a suggestion from Pat Taylor, I've added a Friends United page where I shall store and maintain all the links to my friend's websites and resources. check this page often as it will grow over time and will encompass a lot of useful links and resources.
Tonight is Game 3 of the Stanley Cup Final and I do really hope that Ottawa Senators will manage to battle through and dig themselves out of the hole of trailing 2 games.
GO SENS GO !!!
---
May 27, 2007
Well, this is a small update. Fixed a major text glitch with the Ukrainian pages - all text suddenly turned into hieroglyphs, weird !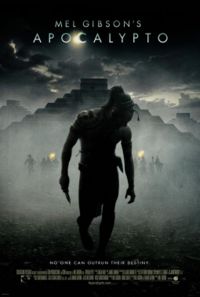 Other than that - yesterday saw an amazing movie - Mel Gibson's "Apocalypto". If you haven't seen it - then definitely go out or rent it and see it. Disregard what the critics are saying - that this movie is too bloody etc. - it is less bloody and gory than for instance the new "Hannibal" movie. Granted, this movie is not perfect (dare show me a perfect one ?) and has some factual problems but on the whole it is incredible - it immerses you into the culture and the people of Maya, it shows you their birth, their life and their death. But, perhaps most importantly, this movie carries a message that is summed up in its opening line:
"A great civilization is not conquered from without until it has destroyed itself from within." - William Durant
"Apocalypto" depicts the beginning of the end of the great Maya civilization and inspires an intelligent person to draw parallels with today's world and it's troubles. And, I guess it also shows how Knowledge is indeed Power, i.e. the Knowledge that a few possess becomes Power to control many.
I think the critics didn't like this movie because, frankly, just as with "The Passion of the Christ", Gibson tried to do something original (both movies were made in native tongues, Passion - in Aramaic and Latin and Apocalypto - in Mayan) and Hollywood doesn't appreciate originality these days. Anyhow, you should see this movie and if, after seeing it, you don't agree with what I've said here, then we could discuss the differences in our views.
Mel Gibson - you are the man! Keep making movies like "Apocalypto" !
You can read more about "Apocalypto" on the Wikipedia or on the IMDB site.
Well, this is about it for today's update. Tomorrow is Monday and that means the first Game of the Stanley Cup Final between Ottawa Senators and Anaheim Ducks. GO SENS GO !!!
---
May 20, 2007. Ottawa Senators advance to the Final !
And so, the Ottawa Senators have advanced to the Stanley Cup Final for the first time in their modern history. Ten years of disappointment have finally ended, Sens are in the Final !!! I probably wouldn't be mistaken if I were to say that every Canadian was rooting for the Sens this Saturday night. Senators' opponent is still to be decided, as the series between Detroit Red Wings and Anaheim Ducks is tied at 2 games apiece. Well, Ottawa Senators have a good chance to rest up and prepare for the fight of their lives - the battle for Lord Stanley's Cup.
From my part, I actually stayed up all night to listen (on NHL internet radio) to Game 4 that started in Kanata at 7pm EST which is 2am KT (Kiev Time). What wouldn't you do for your team to win The Cup ??? Even though the Senators lost this game, they were not an easy pray. Being down 3:0 Sens found courage in their hearts to fight back and almost tie the game, eventually losing 3:2. Credit must be given to Ryan Miller, Buffalo's net minder, if it weren't for him Sens would've swept the President's Trophy winners.
I've listened to Game 5 as well, it started about 9pm KT, and this time Sens have avenged their previous defeats at the hands of Buffalo Sabres and took Game 5, and the series, in overtime with the score 3:2. Daniel Alfredsson, the captain, has scored the game and series winning goal. Good job Alfie !!!
This year's Senators are a different bunch than before, they've got tenacity, patience, inner strength to fight back and win - the qualities necessary to win The Cup. They'll win The Cup, I'm sure. This is their time !
CONGRATULATIONS SENATORS !!!
---
May 14, 2007

Whoooaaa, my site is finally launched ! It has been long in coming but, as the saying goes, "Better late than never". Much joy and celebration !!!

Please do take a look and let me know what you think about it - be it good or bad. I'll incorporate all suggestions and constructive criticism into the future page designs.

I'll take this opportunity to congratulate Team Canada with their victory in the Hockey World Championship. GOOD JOB GUYS !!! Went through the tournament undefeated (won all nine games) showing supreme hockey - amazing!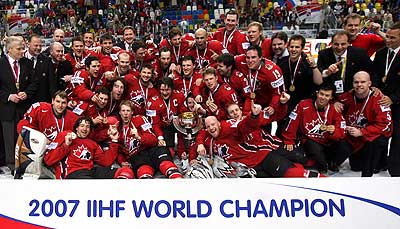 To continue the hockey news thing, I am also very proud of the job that the Ottawa Senators are doing in the Eastern Conference Finals of the Stanley Cup Playoffs. Sens lead the series 2-0 against Buffalo Sabres. The third game is tonight in Ottawa. God I wish I was there to see it.
Below I'm attaching some of the information that I, for various reasons, was not able to post before.
---
May 10, 2007
I am quite ecstatic that Ottawa Senators have made it to the Eastern Conference Finals of the Stanley Cup Playoffs. Senators beat one of their arch rivals the New Jersey Devils in 5 games, so in effect they have conquered one demon. There are two more to go. And one of them is standing in the way right now - the Buffalo Sabres. Sens and Sabres have a long history of conflict so this series will definitely prove to be very interesting.
It is my belief that should Sens manage to defeat Buffalo in the series, then they will win the Cup. It is about time, Sens have made it to the playoffs for the past ten years and this year they show great skill and, what's more important, an ability to win close games.
And even though I do not have the ability to watch the games live - I pay close attention to every game on the NHL site. And the only thing that I can say is:
GO SENS GO !!! GO SENS GO !!! GO SENS GO !!!
---
New Year 2007 Celebration
Well this year my friends and I got together to celebrate New Year's Eve. And since this is a year of a Pig by a Chinese calendar, we decided to pig away - he he, just joking. Well, we had a lot of fun. I organized the entertainment program to keep the fun level high. You can see more info on the pages below:
---
Summer 2006 Vacation
It has been a long time since I had a real summer vacation so I planned to go on a vacation to Odesa. Firstly, in this way I'd be able to visit my relatives that live in Odesa and nearby Juzhny. Secondly, I'd visit the many beaches and be able to relax and get a good tan. You can read more about it below: