Donate to support this site...
About Me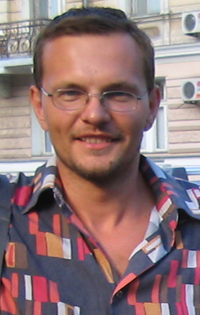 Who Am I ?
As you may have guessed already my name is Slava, well it is actually more involved than that =) But my friends just call me Slava. My Zodiac sign is Pisces. I am not married (yet =) and currently live in my hometown of Uzhhorod, Transcarpathia, Ukraine. I was fortunate enough to get my education in Carleton University, Ottawa, Canada. I've spent my "golden youth years" there, have many fond memories and a lot of good friends.
You can also read about my family on this page.

Why did I make this site ?
Well, the first motivation is to let my friends all over the world keep in touch with me, know how I'm doing and how things are. All they'd have to do now is check the website, see what's new and email me.
Secondly, it is my belief that every worthy scientist should have a site of his/her own, after all we live in the Information Millennium. Well, I'm only working to become a "worthy scientist" but figured that to have a site at this moment would not be a bad idea.
And thirdly, it is a good practice in web design.
What am I up to ?
I am up to many good and fun things and I hope that I will find enough time to see them all through. You may even read about them on this website, so check back once in a while.
Custom Search